How to Bid Online
Bidding online and registering for an auction is very simple and easy! You can bid on your computer, or your phone!
To simplify the bidding process, we encourage bidders to download the Rogers Auctioneers mobile bidding app, available in the iTunes App Store or on Google Play. Let us make bidding easier for you!
Getting Started:
1. Click on "Click Here to View Auction" then click "Bid Online Now." Once completing these steps, this will take you to the auction catalog.
2. When you get to the auction catalog, click "Register To Bid" on any lot.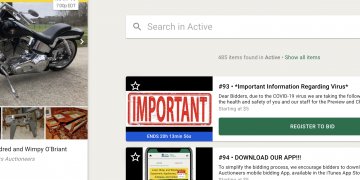 3. This will bring up a sign in box. Look at the bottom of this box, and click "No Account? Sign Up Here".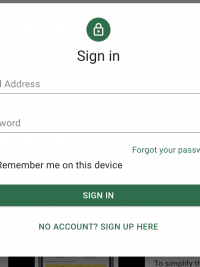 4. Once you click this link, it will bring up the page where you will enter in your information. Enter in the correct information, and then click "contiune."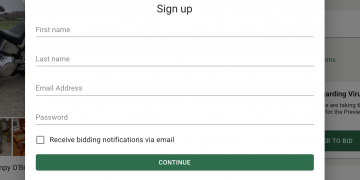 5. Read the Terms and Conditions, and if you agree, click the "I agree with the terms and conditions" box, and click the "Sign Up" Link.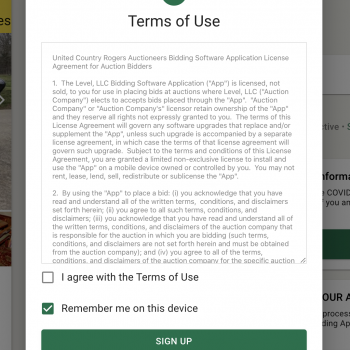 6. This will take you to a page to enter in the rest of your information. Enter in the correct information and click "Contiune."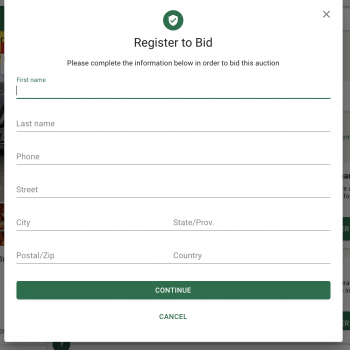 7. Check the "I Agree With The Terms and Conditions" Box and click "Continue"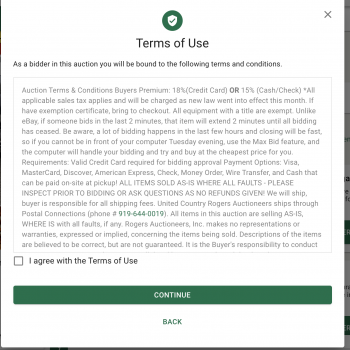 8. This will bring you to the credit card information box. Enter in a valid credit card, and click "Register". Once you do this, you will be able to start bidding!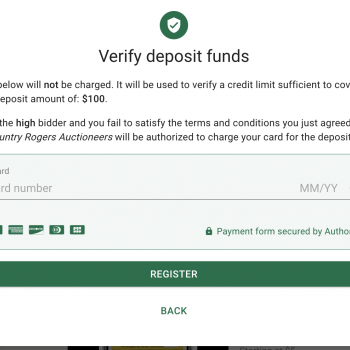 *** You will only have to do this one time, and your information will be saved for any furture auctions you would like to participate in.
There are many tools you can take advantage of once registering for an auction. If you want to keep track of certain items, you can "star" an item. This will allow you to make a list of items that you are interested in, instead of going through the entire catalog every time. Another thing you can do through our bidding platform is setting "maxbids." You can create a max bid, and let the computer do the bidding for you. For example, if an item is at $5, and you are willing to bid up to $100 for it, you can enter $100 as a max bid and the computer will buy the item for you as cheap as possible. So, just because you enter in a max bid, that does NOT mean that the item will automatically jump to that price... the computer will just bid UP TO the price you entered.
If you have any problems, please do not hesitate to contact Jackson Rogers at 919-548-0221